Come visit August Briggs Winery on Saturday, August 3rd while we kick-off our month long celebration of California's classic heritage varietal… Zinfandel.
To promote this special grape we will offer a special Zinfandel only wine flight and have some amazing barbeque to pair with our zesty Zins and a special sale on Zins!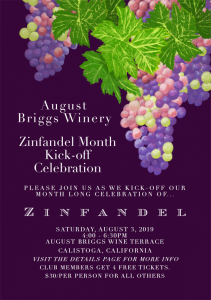 This is a must event for all Zin lovers as this celebration will be a blast!
Event Details: Saturday, Aug. 3, 2019 4:00pm – 6:30pm
Club members get 4 complimentary tickets. $30/per person for all others.
Reservations are not required.
Email colette@augustbriggswinery.com or call us at 707-942-4912 if you have any questions.
We look forward to seeing you!
Reminder,
We are open daily 11:00am-5:00pm
Friday & Saturday 11:00am-7:00pm (seasonally) & Tuesday by appointment!